Posted by Bryan Fischer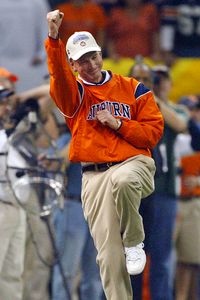 DALLAS, Tex. – Former Auburn head coach Tommy Tuberville guided the Tigers to an undefeated season but, in one of the greatest BCS controversies, never played for a national championship. Attending the American Football Coaches Association Convention this week, the former Tigers coach was beaming with pride when talking about his old school winning a national title Monday night.
But he had to confess that he just couldn't watch Auburn raise up the trophy live.
"You know, I didn't watch what happened," Tuberville said. "I got so nervous because a lot of those kids are mine. I told my wife, we're going to go eat and I'll tape it. After I knew who won, I came back and stayed up and watched it in the middle of the night.
"That's hard what they just did. They could have lost three or four games."
Tuberville was head coach at Auburn from 1999 to 2008, including an undefeated season in 2004. He recruited many of the upperclassmen on the team, including Defensive MVP Nick Fairley.
"We recruited him. We watched him play basketball and you could see it coming," Tuberville said. "He just didn't have the grades (out of high school). We stayed with him out of high school, got him in junior college."
In addition to Fairley, Tuberville pointed out one other leftover from his time on the Plains that helped fuel the championship run.
"The guy that probably doesn't get enough credit though, is Kevin Yoxall, the strength coach," he said. "We always had senior banquets at the end of the year and every year, every player would thank one guy. That's Kevin Yoxall.
"When I walked out the door at Auburn, I said I don't know who you're going to keep but that's the one guy you better keep. And they did. That's the only thing they listened to me about."
Tuberville is entering his second season as head coach at Texas Tech.