Posted by Bryan Fischer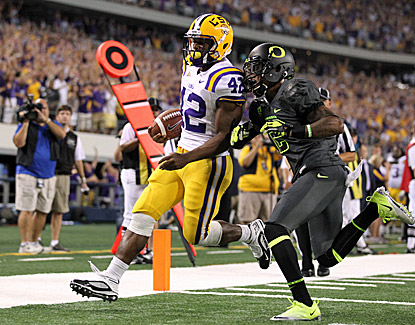 Yes, it's back.
234 days after
Auburn
defeated
Oregon
in Glendale, college football has returned. And did it ever.
At some point during
Russell Wilson's
return at
Wisconsin
,
Baylor
and
TCU's
shootout, Auburn's furious comeback or
Texas A&M's
blowout of
SMU
, one just had to take a deep breath, take in everything that was going on around the country and say, yes, the sport is back.
As
Washington
beat writer
Bob Condotta
summed up
, "College football spent 9 months trying to drive everyone away and in about 18 hours has brought everyone back."
Three straight days worth of games (and one more tonight) couldn't have come at a better time either after, as Condotta alluded to, a rough offseason. Realignment and infractions were in most writers' computer clipboards just from all that went on.
Ohio State
, Oregon,
USC, Miami
, etc., were the schools being talked about in lieu of directional schools being beat up by state schools.
The newest addition to the great
CBSSports.com
crew, senior columnist
Bruce Feldman
, broke down
The Big Picture
from opening weekend and now it's time to dive into the details.
Stat of the week
Admission: I'm a passionate baseball fan. I write, live and breath college football for a living but to me, there's nothing like the intricacies of a baseball game. There's
Vin Scully
in the booth, phenom call-ups, the DH debate and
John Sterling
going as over the top as you can get on a home run call. The sport isn't for everyone though, and the biggest reason most point to is the pace of the games.
Turns out, the baseball players have come around to that point too. I've watched a ton of
Red Sox-Yankees
games over the years and still enjoy every pitch despite them routinely taking around four hours to play.
"It's brutal. I can't stand playing a nine-inning game in four hours. It's not baseball," Yankees first baseman
Mark Teixeira
said. "I don't even know how to describe it. If I was a fan, why would I want to come watch people sitting around and talking back and forth, going to the mound, 2-0 sliders in the dirt? Four-hour games can't be fun for a fan, either?"
On Thursday, the opening day of college football, the Yankees and Red Sox played nine innings in four hours and 21 minutes.
4:21
. Not one football game all week took longer than four hours during week one that wasn't extended due to weather. Heck, out of 1,526 games during the 2010 season, the average length of a game was 3:12.
Stats like this make me glad I cover football and am just a fan of baseball. The excessive TV timeouts in the college game might make some angry but do keep things in perspective: at least it's not baseball.
Other stats of note
-
SEC
teams scored 63 touchdowns, 22 through the air, five on defense and five through returns.
-
Florida
running back
Jeff Demps
broke the 2,000 yard rushing mark for his career while his teammate
Chris Rainey
(
left
) scored a touchdown receiving, rushing and via a punt return. He was the first Gator to ever score in those three ways in one game.
-
Arkansas's Joe Adams
managed to return two punt returns for touchdowns against
Missouri State.
- The 53 pass attempts from by Oregon's
Darron Thomas
were the most by a Ducks quarterback since
Kellen Clemons
on October 9, 2004.
-
North Carolina
quarterback
Bryn Renner
had a great debut for the Tar Heels, going 22-23 for a 95.7% completion percentage. That's an
ACC
record and is the second best mark in
NCAA
history behind
Tennessee's Tee Martin
at 95.8%.
- USC's
Robert Woods
caught a school-record 17 passes and
Matt Barkley
threw a school-record 34 completions.
-
Kellen Moore
has 102 career touchdown passes against just 20 interceptions after his game in the
Georgia Dome
. According to
Tony Barnhart
, 10 of those interceptions came in his first year.
-
UCLA
hadn't lost in the state of Texas in 34 years (to
Houston
) before falling to the Cougars on Saturday. They also hadn't lost to a team from Texas since Houston beat them at the
Rose Bowl
in 1979. More than the record books though,
Rick Neuheisel
badly needed a win for this year's record.
-
Oregon State
true freshman
Malcolm Agnew
is the nation's leading rusher after a 223 yard performance... but his team still lost to an average
FCS
team this weekend.
- No surprise to see
FIU's T.Y. Hilton
turn in another great all-around performance, racking up a nation's-best 283 all-purpose yards against North Texas.
- Amazingly, Oregon-
LSU
was only the seventh time two ranked Pac-12 and SEC teams met on the field in the last 10 years. The SEC has a 4-3 edge after the Tigers took care of business in Arlington.
The NCAA is following Miami
The NCAA taking a road trip to see Miami tonight…. NCAA.com that is.
The site is wrapping up a five game, five state, five day road trip to kick off the season and is taking a behind the scenes look at several programs along the way. They were in Charlotte, N.C. to check in on student-athlete
Stephen Garcia
leading
South Carolina
to a win over
ECU
. The were soaked after rain storms shortened
West Virginia's
victory over
Marshall
. Tonight they'll be in College Park to see
Maryland
and Miami play.
While the trip is noble, there's a tinge of irony that the NCAA is taking their talents to see the team from South Beach play. Either way,
check it out here
.
I'm not sure which of the
16 different uniform combinations
Maryland is using Monday night either but maybe they can figure out a way to wear the all white ones despite it being a home game. After all, seems like this would be their only chance since you certainly can't wear (all) white after Labor Day.
Don't forget about these guys
-
Notre Dame
was as sloppy as the field they played on and there's not much else to say beyond that. Yes it was rainy, yes it was the first game of the year but all that shouldn't matter for the Irish - looking to finally live up to expectations and be a top 10 team this year. There's still plenty of time for them to get it together but their lack of fundamentals and now very real quarterback controversy will be something
Brian Kelly
will have to figure out quickly. On the bright side,
Michael Floyd
(
right
) had 12 catches, 154 yards and two touchdowns.
- Auburn is a young team and they're going to take some lumps given their difficult schedule. Let's get that statement out of the way. They can - and should - be better than what everybody is saying they'll be but still, it was a bit shocking to see the Tigers on the brink of a loss at
Jordan Hare Stadium
to
Utah State
. It will take some time for this young team to gel and get caught up to the pace of the game. Auburn got a very real wake up call that
Cam Newton
wasn't taking the snap, now it's time to see how they'll respond.
"We are a long way off from being able to win very many games right now," head coach
Gene Chizik
said.
Aggies true freshman
Chuckie Keeton
was the star of the show if you look beyond the box score (21-30, 213 yards) thanks to the tremendous poise he had in his first game ever at the collegiate level. He'll be one to keep an eye on in the future.
- If you were a
Michigan
fan who managed to stay dry at the
Big House
, you had to be somewhat encouraged at the progress your defense made. Yes there's nowhere to go but up from last year but
Greg Mattison
looked like he had the team being much more aggressive. The players still aren't the caliber they once were but there are some bright spots, such as linebacker
Brandon Herron.
- It's hard to read too much into
Alabama's
game against
Kent State
other than that their defense is nasty (90 total yards allowed) and they have an unfair advantage with
Eddie Lacy
and
Trent Richardson
in the backfield. It appears
AJ McCarron
has the edge at quarterback but both him and
Phillip Sims
tossed two interceptions. The real test comes when both go into a hostile Happy Valley to take on
Penn State
. That's when
Nick Saban
will truly find out which is his "guy."
- Memo to
Bob Stoops
: walk-on transfer
Dominique Whaley
needs a scholarship. It's the least
Oklahoma's
head coach can do after Whaley ran for 131 yards and four touchdowns in the Sooners opener against
Tulsa
. It's the Sooners bye week, perhaps Stoops can find the cash lying around for a full-ride.
- A so-so debut for
Missouri
quarterback
James Franklin
on Saturday. There were positives and negatives for
Blaine Gabbert's
replacement as he seemed about a half-step behind where he should have been in the passing game, failing to hit open receivers at times. Third down conversions (3 of 13) is one area that has to be concerning but certainly his skills running the ball have to be somewhat exciting to Tigers fans but there will have to be a bit of polishing going on before they take on the big boys like Oklahoma and Texas A&M.
- No surprise to see LSU corner
Tyrann Mathieu
named as SEC player of the week. He was all over
Cowboys Stadium
for the Tigers and made one of the biggest plays of the game when he recovered/forced a muff punt and scooped and scored.
More on College Football
Analysis

Dennis Dodd
LSU's Tigers sink teeth into Ducks, show they could be in running for No. 1 ranking. Read >>
---

Brett McMurphy
A changed Garcia makes all the difference for Gamecocks. Read >>
---

Tony Barnhart
Boise State's dominant win over Georgia proves they're ready to run the table. Read >>
Related links
Video
Pulling Rank
The AP and coaches polls don't come out until Tuesday with a game being played on Monday. Here's Dennis Dodd's latest power poll top 10 however.
1. Oklahoma, 2. LSU, 3. Boise State, 4. Alabama, 5. Wisconsin, 6.
Virginia Tech
, 7.
Florida State
, 8.
Stanford
, 9. Texas A&M, 10.
Nebraska
.
Not a big disagreement with that group, but perhaps the Cardinal is a bit undervalued at number eight.
Links for later
- With plenty of time to talk about conference realignment before the games begin again, be sure to check out
Dallas Mavericks
owner - and
Indiana
alum -
Mark Cuban's
thoughts on what
Big 12
schools should do. Namely,
just say no
.
- The video of the week comes out of Lubbock, as
Texas Tech's
head coach
Tommy Tuberville
gets the Red Raider fans fired up
in this pre-game intro
. It didn't work as well as the second half intro, as Tech pulled away 50-10.
- A precision attack from Kellen Moore and his receivers picked apart
Georgia's
defense.
Here's how they did it
.
- Good column from
Sun Sentinel
columnist
Dave Hyde
, who gets
Al Golden
to open up and
share his view of the scandal
that has engulfed his program.
- Is
The Longhorn Network
the sticking point for
Texas
going to the
Pac-16
? Yes,
but it appears they can get out of it
if they want.
Where We'll Be This Week
Looking ahead, Dennis Dodd will be on-hand to see
Joe Paterno
can try and pull of a massive upset as Alabama travels to Penn State. Tony Barnhart will be seeing if Georgia can bounce back and save Mark Richt's job as the Bulldogs take on South Carolina while Brett McMurphy travels to Ann Arbor for the big night game between Michigan and Notre Dame. Gregg Doyel is going to see one independent take on a possible future independent as
BYU
travels to play Texas. Finally, myself and Bruce Feldman will carpool to the Coliseum and witness the first ever Pac-12 conference game between
Utah
and USC.
Across the goal line
Finally, let's not forget how the first day of Oh-thank-goodness-college-football-
is back ended for most of us. I'm really not sure why a game between two commonwealth schools would be played in the state of Tennessee in the first place, but it was. I understand wins in the state are hard to come by, but just how bad was the
Kentucky-Western Kentucky
game?
The highlight of the night was pretty much Hilltoppers linebacker (and first-team All-Namer)
Andrew Jackson
telling the nation, "They supposed to be in the SEC?" Of course his team was down at the time but you understood why he chose to make the remarks.
Wildcats' punter
Ryan Tydlacka
said afterwards, "I'm kind of exhausted." If your punter says he's exhausted after a game, it better be because he ran more than two fake punts, not because he averaged 47 yards on seven punts.
But it was football. The game we love so, so much has returned.
And good, bad, ugly or Kentucky, we'll take it.