Posted by Eye on College Football




Occasionally the Eye on CFB team convenes Voltron-style to answer a pressing question in the world of college football. Today's query:

It's Valentine's Day, so pick someone or something from college football--person, team, conference, whatever. Who should they be sending a valentine to today, and what does that valentine say?
Bryan Fischer: I think the athletic directors at Arizona, Arizona State, UCLA, Washington and Washington State should be sending a Valentine to Larry Scott this year. The Pac-12 commissioner unveiled his Pac-12 Network studios just yesterday, and that's appropriate considering the media deals he negotiated were the biggest reason those schools were able to off the sweetheart deals that landed their new coaches. Do you think the Bruins or Huskies could have afforded the assistant salaries before that money started flowing? Or that Wazzu was able to land a coach like Mike Leach? I don't think they do.
I'm guessing their valentine says something to the affect of, "Thank$ Larry for everything, hope you'll be our Valentine for several more years."
Tom Fornelli: I'm going to say TCU and West Virginia owe Missouri and Texas A&M a valentine this year, one with some expensively-licensed cartoon character saying "Thanks for the sloppy seconds!" If not for those two leaving the Big 12 for the SEC, then both TCU and WVU are stuck in the Big East for 2012 at least--a Big East that's without a clear future at the moment, and seems en route to becoming Conference USA version 2.0.
Instead the Frogs and Mountaineers have joined the Big 12, which is in much better shape than the Big East and will provide far more money for both schools in the long run.
Jerry Hinnen: If I'm Mike Slive, I'm sending out a valentine to Dana Holgorsen -- or maybe Gus Malzahn, or Mike Leach, or Todd Monken -- saying "WILL YOU BE MINE?" festooned with as many hearts (and dollar signs) as it takes to convince them to try their hand (again, in Malzahn's case) in the SEC. There's no doubting the SEC's dominance on the defensive side of the ball or its overall array of talent, but the 2011 season also showed a league in dire need of an infusion of offensive ingenuity, preferably (for variety's sake) out of the spread school. Alabama's yawn-inducing strangulation of LSU in the BCS title game is Exhibit A for the conference's current cloud-of-dust tendencies, but the overall statistical picture is even more damning: six different SEC teams finished in the bottom 25 in the FBS in total offense, with zero finishing in the FBS top 25. (Arkansas ranked highest at 29th.)

Some of that is good defense; an awful lot of it is terrible offense, too. And it may get worse before it gets better--look at the likes of former offensive juggernauts Florida and Auburn, currently undergoing dramatic offensive regime changes after regressing badly in 2011.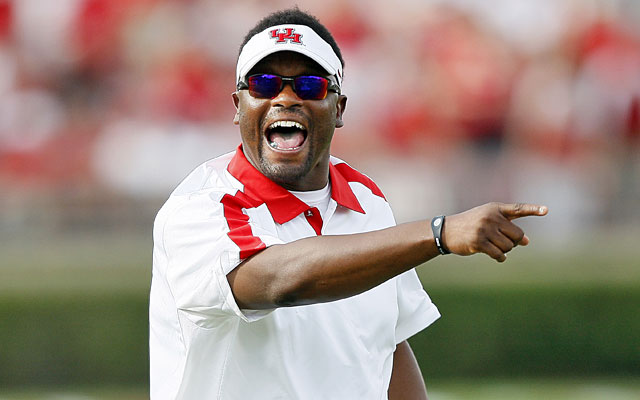 Defense may win championships, but offense often wins TV ratings, as the BCS championship Nielsens will tell you. The SEC's current regular season ratings are fine, of course, but Slive is about to go back to the negotiating table to try and keep his TV contract up with the Joneses of the Big Ten and Pac-12, a table to which he'll want to bring every single positive for his league he can gets his hands on. The SEC will be a-OK with or without the Big 12's reputation for high-flying offensive theatrics, but that doesn't mean Slive -- and a league full of fans likely tiring of watching Tennessee and South Carolina combine for 17 points and barely more than 500 yards in nationally televised prime-time -- wouldn't welcome someone who could shake up the conference's burgeoning reputation for Slugfest-with-a-capital-S football. Kevin Sumlin gets first crack, but we're guessing Slive would prefer he had some high-profile help sooner rather than later.
Chip Patterson: If I'm Ohio State athletic director Gene Smith, I'm sending roses, candy, banners, and thankful notes to new head coach Urban Meyer. Even with an ill-timed bowl ban from the NCAA Committee on Infractions, Meyer has cooled much of the heat on Smith after the fallout surrounding Jim Tressel's departure. Winning cures all, but hiring a two-time national champion to supposedly guide your program out of the darkness will certainly hold the Buckeye fans over until the bowl ban is lifted. Meyer hit the recruiting trail hard after his hire, pulling in a top-5 recruiting class despite the sanctions from the NCAA.
If Smith had whiffed on his hire to replace Tressel, he would find himself under further scrutiny with the additional sanctions. Meyer is exactly the home run hire Ohio State -- and Gene Smith -- needed. In fact, a valentine might not be enough. Maybe Smith should get a tattoo.
What? Too soon?