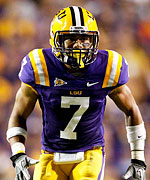 Posted by Jerry Hinnen


Reports out of Baton Rouge are that
Tyrann Mathieu's
Heisman campaign
is about to hit a major speed bump--and that his team may be about to have a more difficult time with visiting
Auburn
Saturday than initially thought.
According to the
Associated Press,
a "person familiar with the decision" has indicated that Mathieu is one of three players who will be suspended for (at the minimum)
LSU's
game against the visiting Tigers this Saturday. Also due to sit is starting tailback and leading rusher
Spencer Ware
and nickelback
Tharold Simon.


At his Wednesday evening press conference,
Les Miles
declined to confirm or deny the reports
. He said all healthy roster members
had practiced
.
"There is no real information about any specific player," he
said
. "When there is information to share, I will. The problem with this is it's internal. I am not inclined to be forthcoming with any information on this."
The
Daily Reveille,
the LSU student newspaper, reported that Mathieu and Ware will be suspended
as a result of failing a random drug test
. According to a source
who spoke to the New Orleans
Times-Picayune,
the players tested positive for "synthetic marijuana." At this time there is no indication the suspensions will be for longer than one game.
The good news for LSU is that while both Mathieu and Ware have made major impacts on the Bayou Bengals' 7-0 start,
Les Miles
has solid options for replacing both. Even with Simon out as the planned "next man up" at corner, Miles can call on experienced senior
Ron Brooks
to handle that position, or move either
Eric Reid
or
Brandon Taylor
from safety to corner and start the other. And against Auburn's 106th-ranked passing offense, the secondary may not be tested much anyway.
There's plenty of depth at tailback, too. Second-leading rusher
Michael Ford
is already averaging more than a yard more per carry than Ware and third-stringer-in-name-only
Alfred Blue
has rushed for better than 150 yards the past three weeks.
The bad news for LSU is that Brooks (or a moonlighting Reid or Taylor) is simply not Mathieu, and Ford and Blue are simply not Ware. That's not likely to matter when it comes to the final outcome Saturday, at least according to Vegas; LSU is installed
as a 21-point-plus favorite
.
But things might not be as comfortable as Miles or the Death Valley crowd would like, and after a season already plagued with off-field distractions like the
Jordan Jefferson
bar fight and
Russell Shepard
suspension, Miles would no doubt have preferred to ramp up toward the
Alabama
megatilt with his team's focus solely on football. Even if the suspensions prove to be of the one-game variety, that doesn't look like it's going to be the case.