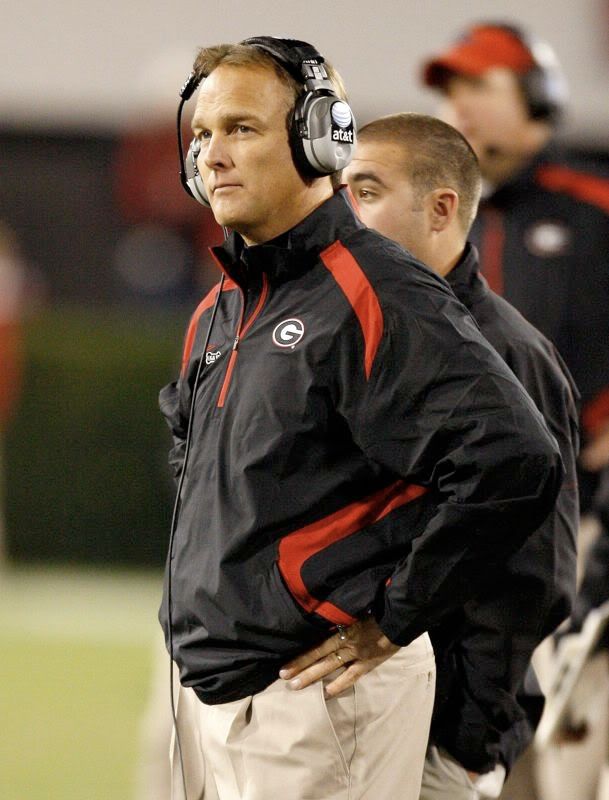 Posted by Jerry Hinnen

1. Mark Richt is in deep, deep trouble. But he's not finished. It would be different if the Dawgs had lost Saturday the way they lost against Boise State, getting overwhelmed in the trenches and wilting in the second half. It would be different if Richt's team hadn't shown such drastic improvement from Week 1 to Week 2--not just on the scoreboard, but in everything from run blocking to tackling to special teams work. It would be different if Georgia hadn't had every opportunity to win the game Saturday. And most importantly, it would be different if the Dawgs were facing a different schedule.
But they are facing the schedule they're facing, which includes one tricky true road date (at Tennessee), the annual Cocktail Party showdown against Florida, two challenging home games against Auburn and Mississippi State ... and six other winnable games. Saving Richt's job won't be easy; we projected earlier it would take nine wins to do it, meaning Richt would have to go 3-1 in the games above and sweep the remaining six.
But it's certainly possible. His team hasn't thrown in the towel. He has a star on his hands in Isaiah Crowell, who in the Dawgs' next big game we'll wager won't carry only 16 times. He has a quarterback who remains one of the SEC's best, despite his serious mistakes against the Gamecocks. He has a defense that only really gave up 27 points and should be even better against anyone who's not Marcus Lattimore. He's not dead yet.
2. Alabama is a national title contender. This is something we've had confirmed, rather than outright "learned," but there's no other way to look at the Tide's strangle job on the Nittany Lions. AJ McCarron wasn't impressive statistically (just 5.3 yards per attempt), but that "zero" in the interceptions column is really the only statistic that matters. Trent Richardson and Eddie Lacy combined for 196 yards on the ground. And after generously allowing Penn State a first-quarter field goal, the Tide defense barely let the Lions breathe again until the game was entirely out of reach.
Considering all of that was on the road against a quality Big Ten team, yes, the Tide deserve to be in the same breath with LSU and Oklahoma at the top of the polls until proven otherwise.
(A random aside: is it time for Lacy to start borrowing a few more of Richardson's carries? He's gotten only 19 attempts in two games to Richardson's 37, but boasts a per-carry average of 7.5 yards to Richardson's 3.8. Food for thought.)
3. Whatever else they are, Auburn is dangerous. Given that they share a division with the Tide, LSU and Arkansas, it's hard to see a team that's given up 979 yards in two games (one of them against Utah State) go on to win a division title. But focusing entirely on Auburn's defensive problems means missing the fact the Tigers have started the year with 83 points in those two games--42 in the first, 41 in the second. And that's before Gus Malzahn's attack has really put it all together, too. The run game sputtered in Week 1; the passing game was inconsistent in Week 2.
Combine a potentially even more lethal offense with a much-improved special teams (led by freshman kickoff return weapon Tre Mason and redshirt frosh kicker Cody Parkey), and there may not be any single game on Auburn's schedule where they couldn't erupt for 40-45 points and win.
4. Speaking of dangerous: Tyler Bray is, too. That 5-of-30 performance in the Vols' spring game is far, far behind the sophomore now. Bray tore the visiting Cincinnati defense to pieces, completing 34 of his 41 passes for 405 yards, 4 touchdowns, and -- perhaps most importantly for a player whose coaches have occasionally accused of being too loose with his decision-making -- zero interceptions. Like Auburn, the Vol defense may not be strong enough to insert Bray's team alongside the Gamecocks and Gators in the SEC East race (the Bearcats ran for a whopping 6.4 yards on their 26 carries) ... but they might make things awfully interesting all the same.
5. Florida and Arkansas need to play someone. Full credit to the Gators and Hogs for dispatching lightweights UAB and New Mexico by a combined 88 points Saturday. But it's tough to know exactly how seriously to take either team playing cream-puff opponents like these or respective week 1 fodder FAU and Missouri State. (At least the Gators get serious next week against the Vols; the Hogs have to wait until a Week 4 showdown with the Tide.)
6. Vandy won't be an embarrassment. It remains to be seen how much headway they can make in the win column against their SEC slate, but that doesn't mean we should overlook that James Franklin's 'Dores already have as many wins in 2011 as they had in either 2009 or 2010. Thanks to a legitimately stingy defense that held UConn to fewer than 200 total yards, Vandy should be far more competitive than the 2010 squad that was outgained by 245 yards per SEC game.